We've partnered with Humm Finance to give you the best possible shopping experience available. You can now buy what you want when you want it – without the hidden costs.
Have you ever saved up for an item only to find that it's sold out by the time you could purchase it? With our buy now pay later option, you can avoid ever missing out on your dream sofa, garden furniture, bed frame or dining table. When you choose Humm Finance at checkout, you'll get the option to shop now and pay later in instalments for your purchase. It's as easy as that! 
Choose from 3 Flexible Payment Plans
With our shop now pay later option, you can choose to spread the cost across 12 months, 24 months, or even 36 months. You can apply for up to €15,000 and you can make purchases from as little as €80.00 on our website.
What are the benefits of Humm Flexi Finance?
That's an excellent question! There are so many great reasons to choose Humm at checkout. 
No large downpayment needed

Apply for up to €15,000

Apply online and get approved within minutes

Choose a flexible payment start date to suit you

Avoid missing out on products that are low in stock

Choose from 3 flexible payment plans

You can pay off your Humm Agreement early without additional fees or charges. You will only pay the balance owing (including interest) up until the point of closure.
We've made shopping simple and seamless, allowing you to get your hands on your perfect home furniture purchases without hanging around. Once you're approved, not only can you shop online and in-store with Stockhouse Interiors, but you can also shop across 1,000's of retailers throughout Ireland. 
What do I need to apply for finance?
Applications with Humm are quick and easy! Here's what you need to apply with Humm to buy now and pay later.
Be at least 18 years of age
Provide proof of PPS number and address
Be an Irish citizen or permanent resident of Ireland
Earn a minimum taxable income of €1000 per month
Have a current credit/debit card and a photo ID
Have a good credit history
How to shop with Humm Finance
Once you've been approved by Humm Finance, all you need to do is add your chosen item(s) to your cart and head to the checkout.
Select Buy Now Pay Later With Humm at checkout.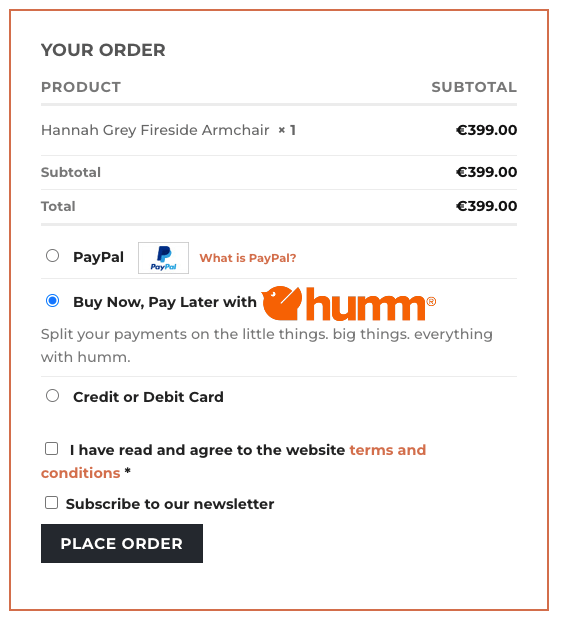 It's as simple as that. Click here to get started and your application will be reviewed within the hour. If you have any questions at all please check out our Frequently Asked Questions section or get in touch with us here.