This week we are delighted to welcome Kellie who has joined us for one-week work experience from Coláiste na Carraige. Kellie has been busy creating her dream bedroom. We asked to her to take some measurements of her bedroom last night and draw up a rough plan including windows, doors and layout. She had a browse through products and chose pieces for her dream bedroom. Check out her stunning mood board creation. We just love her overall style and look that she has created. Kellie has quite a bohemian Scandinavian style which is very on trend. This girl has got style!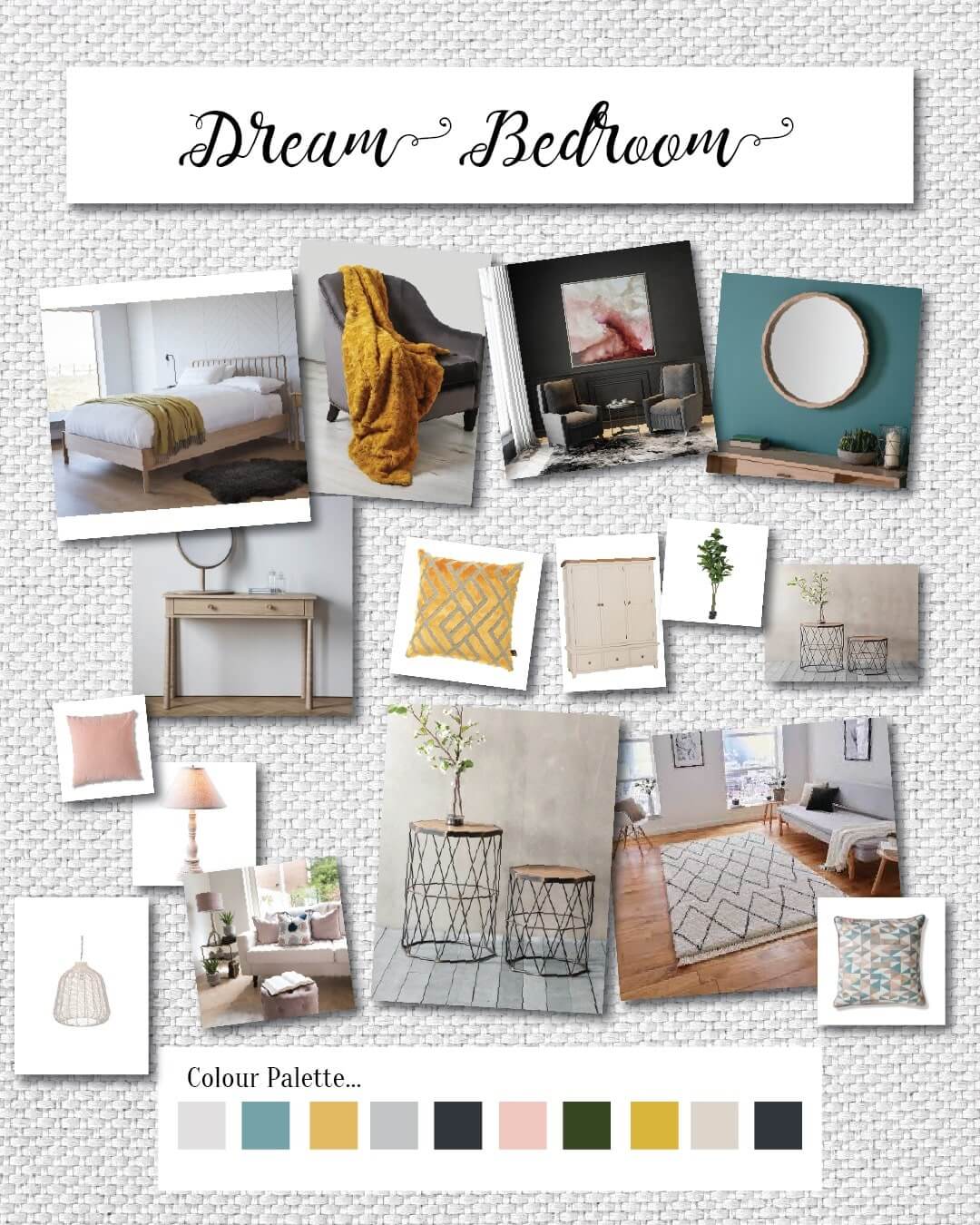 I chose Pure White as my paint colour as it is easy to change accent colours and it is bright and would open up my room. Everything goes with white. The bedframe I picked has the open headboard which would let the light flow through as I have my bed at the window in my room.
I love the light oak wood colour. I chose the Marshall side table as a bedside locker as it is very different and trendy. I love the mismatched look. The colours in the bedding I have chosen are bright and funky with clashing colours making it more interesting. I love the idea of plants in my room adding greenery and making it more relaxing. The faux plants are easy to keep and take away the bareness.
Boho Style
The bohemian rug has a lovely pattern and is quite shaggy which would be nice on bare feet. I would place the large rug underneath the bedframe to accentuate the bed. The triple wardrobe would provide lots of storage in both hanging and shelves for my bulkier hoodies and shoes. I adore the dressing table and mirror which are quite minimalistic. Ideal for a makeup station and the blush pink stool to soften the whole look. The lighting I have picked is very neutral in keeping with the light wood and calming feel to the room.
Overall, I am happy with my selection in creating a cosy, funky boho bedroom.